The Refined eHealth European Interoperability Framework (reEIF) was adopted by the eHealth Network (eHN) in November 2015. Four layers of interoperability are described in the Framework focusing the legal, organisational, informational and technical level.
The legal layer is supported by regulation, i.e. by directives at a European level and laws at a national and regional level.
IHE supports the other layers in the following way:
For the organisational and workflow layer: Integration Profiles describe the specialised workflows between systems used by healthcare professionals exchanging medical data within healthcare organisations or across organisations. They support the care processes. For example:

The Radiology Workflow describes how to order radiology images for a patient in the ward and how to provide the radiology report to the clinicians using interactive healthcare systems.
Cross-Enterprise Document Sharing describes how to store medical documents in a repository of a healthcare community and how to request specific documents for a patient.

For the information layer: Clinical Content Profiles describe the semantic or information data elements that are exchanged between healthcare professionals using templates based on HL7 CDA or any other relevant standards strongly restricted to a specific use case (e.g. FHIR). For example:

The Patient Summary Profile describes all the data elements needed for a healthcare professional to have an overview of the patient status, the current prescription, the allergies and other information useful for an emergency contact.
The Laboratory Report Profile provides all the results of the prescribed medical biology analysis.

For the technical layer, the infrastructure or application level is supported by Integration Profiles such as XD*, PIX/PAM/PDQ and Security Profiles. For example:

The PIX Profile provides the mechanism to request and find patient identification across domains.
ATNA is the Profile that supports audit trails.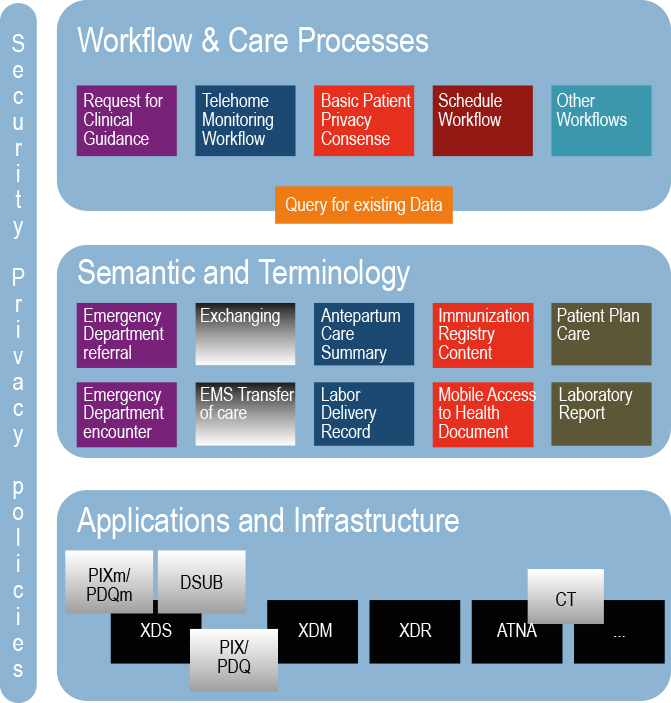 Terminologies (LOINC, SNOMED/CT, other specialised coding systems...) are a key component when medical data are exchanged or shared: They can be considered the "language" of the structured and formalised medical data element values understandable for the end-users or the computer for a particular treatment performed.
Finally, semantics is embedded in each layer of the Interoperability Framework. The use case approach of analysing the implementation of the standards for specific needs facilitates the selection of the existing Integration and Content Profiles bound to a set of codes of relevant terminologies. From the end-user point of view, it saves time and efforts when it comes to designing projects or solutions.