IHE is an initiative by healthcare professionals and industry to improve the way computer systems in healthcare share information. IHE promotes the coordinated use of established standards such as DICOM and HL7 to address specific clinical needs in support of optimal patient care. Systems developed in accordance with IHE communicate with one another better, are easier to implement, and enable care providers to use information more effectively (see IHE International).
IHE is governed by an international board that provides strategic direction and coordinates the technical development activities. To learn more about IHE International's strategic plan, watch the video here.
In Europe, IHE activities are supported by IHE-Europe, a non-profit organisation that promotes the IHE concepts in Europe, encourages the setting up of IHE Deployment Committees at national level, and organises, together with the national deployment committees, testing activities like the yearly IHE EU Connectathon.
IHE-Europe is a Regional Deployment Committee member of IHE International and serves as umbrella organisation for the National Deployment Committee, user organisation and vendor members in Europe.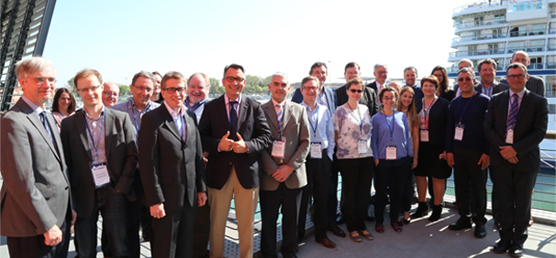 Vision of IHE-Europe:
A world with seamless and secure access to health information that is usable whenever and wherever needed.
Mission of IHE-Europe:
To guide clinicians, health authorities, industry, and users in order to reach healthcare interoperability in Europe.
To fulfill its mission, IHE-Europe has the following strategic goals:
IHE-Europe is the premier organisation of knowledge in healthcare interoperability in Europe.

IHE-Europe promotes the knowledge and use of the IHE methodology through which IHE transforms international standards into testable specifications for which both tooling and related services are available from the IHE ecosystem.

As such, it

helps national and European stakeholders and policymakers in adopting and

promoting

the use of

the IHE

methodology to foster interoperability.
Objectives: 
supporting European IHE National Deployment Committees in their mission by facilitating the sharing of information and experiences

broaden the European interoperability ecosystem

promoting and facilitating the creation of testable specifications in European-level projects and supporting related activities

organising the IHE Connectathon Week in Europe, together with the IHE National Deployment Committees

recruiting users and developers at the European level to participate in IHE-Europe and in testing activities organised throughout Europe.

incubating services in support of interoperability testing

liaising with IHE Catalyst in order to help identifying the tools needed by IHE-Europe members

relaying innovative ideas on interoperability within the IHE ecosystem

interacting

with relevant governmental and non-governmental organi

s

ations in Europe

and

maintain

ing

close contacts with similar initiatives around the world.
Patients are the Winners
The seamless flow of health information between the different healthcare systems across Europe brings tremendous benefits to patients as well as the doctors and nurses providing vital care.
IHE-Europe is dedicated to interoperability in health information technology.  It begins with an open process of developing integration profiles to assure IT systems can communicate with each other. Then, it is required to test these systems to verify that complex computer coding delivers the data. Finally, IHE-Europe actively promotes wider awareness and use of these methods for assuring continued conformance and compatibility.
IHE Integration and Content Profiles have been adopted by national and regional projects in countries such as Austria, France, Italy, Switzerland, Slovenia, Luxembourg, The Netherlands and several others. These specifications provide the guidance necessary to implement specific standards and profiles in commercial and self-developed systems that will help realise efforts towards large-scale interoperability of health information in Europe.
Activities of IHE in Europe
IHE-Europe develops workflow descriptions and associated Integration and Content Profiles in specific healthcare domains based on user requirements as well as the testing software (Gazelle tools) required to support vendors in developing interoperability.
IHE-Europe organises live interoperability testing between vendors at the annual European Connectathon, as well as follow-on live interoperability demonstrations. IHE-Europe has a permanent technical team that contributes to developing testing software (Gazelle tools) and provides an independent oversight body to publish the participating vendors Connectathon results. 
IHE-Europe's core activities also include education and promotional activities, such as publishing interoperability success stories for creating awareness and encouraging utilisation of IHE Integration Profiles.
Serving as a voice for European interests, IHE-Europe coordinates IHE development worldwide with IHE Initiatives for North America, Asia and Oceania in the international IHE organisational structure as well as close collaboration with standards development organisations (ISO, HL7, CEN, DICOM, etc.) and other profiling organisations such as the Continua Health Alliance that is leveraging IHE Profiles.
IHE-Europe plays a vital role in health information
By gathering key leaders and actors for health IT in Europe, IHE-Europe is able to coordinate shared efforts among National Initiatives and maintain regular communication with EU Member States.
The open organisational structure of IHE-Europe also enables manufacturers to develop and market products for European customers with only minor variations to reflect national preferences.
The association is able to coordinate activities and development with IHE North America and IHE Asia and Oceania. IHE-Europe is an active participant to the international Strategic Development Committee, the broadest oversight body of IHE International, that oversees adherence to goals and guidelines, communication and coordination among Domain Committees and harmonises diverse National and Regional Initiatives.